Every year billions of chickens are intensively farmed, killed, and sold to people to eat. Every one of them is an individual with a distinct personality, preferences, and thoughts. And yet, they are crowded in their tens of thousands into vast sheds, their individual needs denied. At VFC, we have made it our mission to spare the lives of these poor birds. Not only do we find creative ways to publicise the reality of chicken farming, but we also create delicious Vegan Fried Chick*n for people to enjoy instead.
So, why have we focused our efforts on chickens? Why do they matter so much?
WHAT ARE BROILER CHICKENS?
It's not so much 'what' they are, as 'who' they are. These are birds who are slaughtered when just a few weeks old so that people can eat their meat. During their short lives, broiler chickens endure unimaginable suffering. They have been bred to have specific profitable traits, but these come at an immense cost to their welfare and well-being.
WHY ARE THEY CALLED BROILER CHICKENS?
Good question! The term "broiler chicken" is an industry term for chickens bred, farmed, and slaughtered for their meat. It comes from the days when chicken meat was "broiled", otherwise known as grilled.
ARE BROILER CHICKENS MALE OR FEMALE?
Broiler chickens can be either male or female. Because they are usually slaughtered before they reach sexual maturity, and because their unnatural weight gain makes it nearly impossible for them to reproduce naturally, housing males and females together is not a concern for farmers.
WHAT'S THE DIFFERENCE BETWEEN BROILERS AND LAYERS?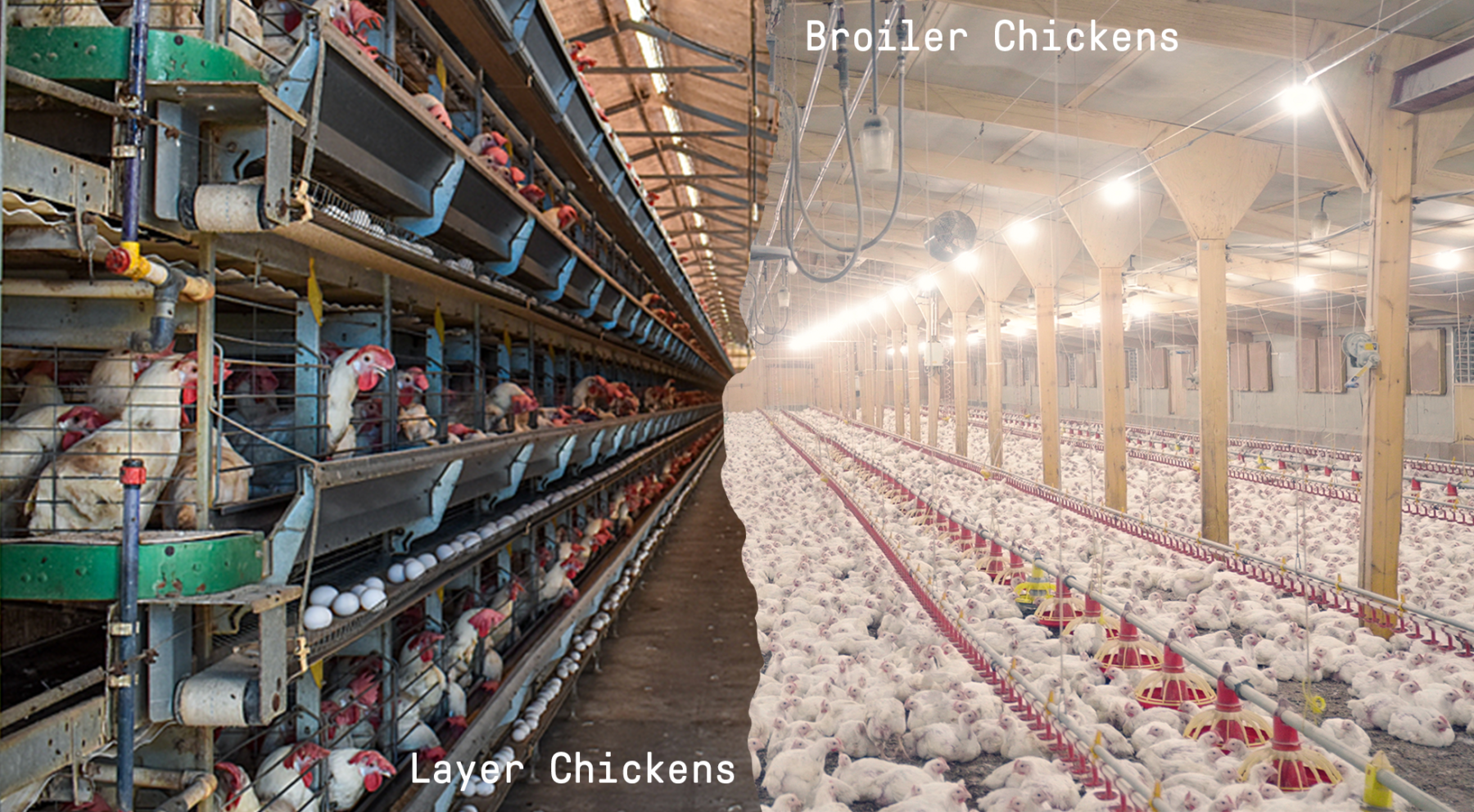 Broiler chickens are the birds raised to be slaughtered for meat, whereas laying hens (who are always female) are farmed for their eggs. They are different types of bird and have been specifically bred to emphasise the physical characteristics that will generate the largest profits. So, broiler chickens are bred to put on a lot of weight very fast, even though it causes serious suffering, including lameness, immobility, chronic pain, and heart disease.
And laying hens have been bred to lay huge numbers of eggs, and far more than their bodies can naturally support. In fact, despite their ancestors laying just a handful of eggs a year, today's laying hens have been genetically manipulated to produce 300 eggs a year. This requires a lot of calcium, which is taken from their bones, weakening them and causing fractures and breaks.
DO BROILER CHICKENS LAY EGGS?
Due to the intensive breeding programs that have forced broiler chickens to grow at unnatural rates, they are unable to lay fertile eggs without human intervention. In order to breed from them, farmers restrict the feed of the parent birds to prevent them from growing as they normally would. Unsurprisingly, this causes chronic hunger, which in turn causes the stressed birds to become more aggressive, especially at feeding time. To prevent them from injuring one another, breeder birds are frequently subjected to mutilations, such as beak trimming — the amputation of the ends of their beaks — which can cause chronic pain and make eating difficult, and sometimes even impossible.
HOW ARE BROILER CHICKENS RAISED?
Broiler chickens are slaughtered after just six weeks, so there's very little work to be done when it comes to raising them. The birds are simply left crammed inside vast warehouse-style barns with thousands of other chickens. Feed, water, and light are automated, so the main job of farm workers is to walk through the sheds each day, killing any birds who are too injured or sick to survive, as well as any who are too small to be profitable.
The litter in these barns quickly becomes sodden with urine and faeces, which can burn the feet of the birds as they stand in it, and their chests when they sit or slump in it. Their rapidly increasing weight can cause painful lesions on their legs, and these lesions are made worse by the dirty litter. Since the cost of veterinary care is more than each bird is worth to the farmer, many birds suffer throughout their whole lives, with vast numbers dying right there in the shed.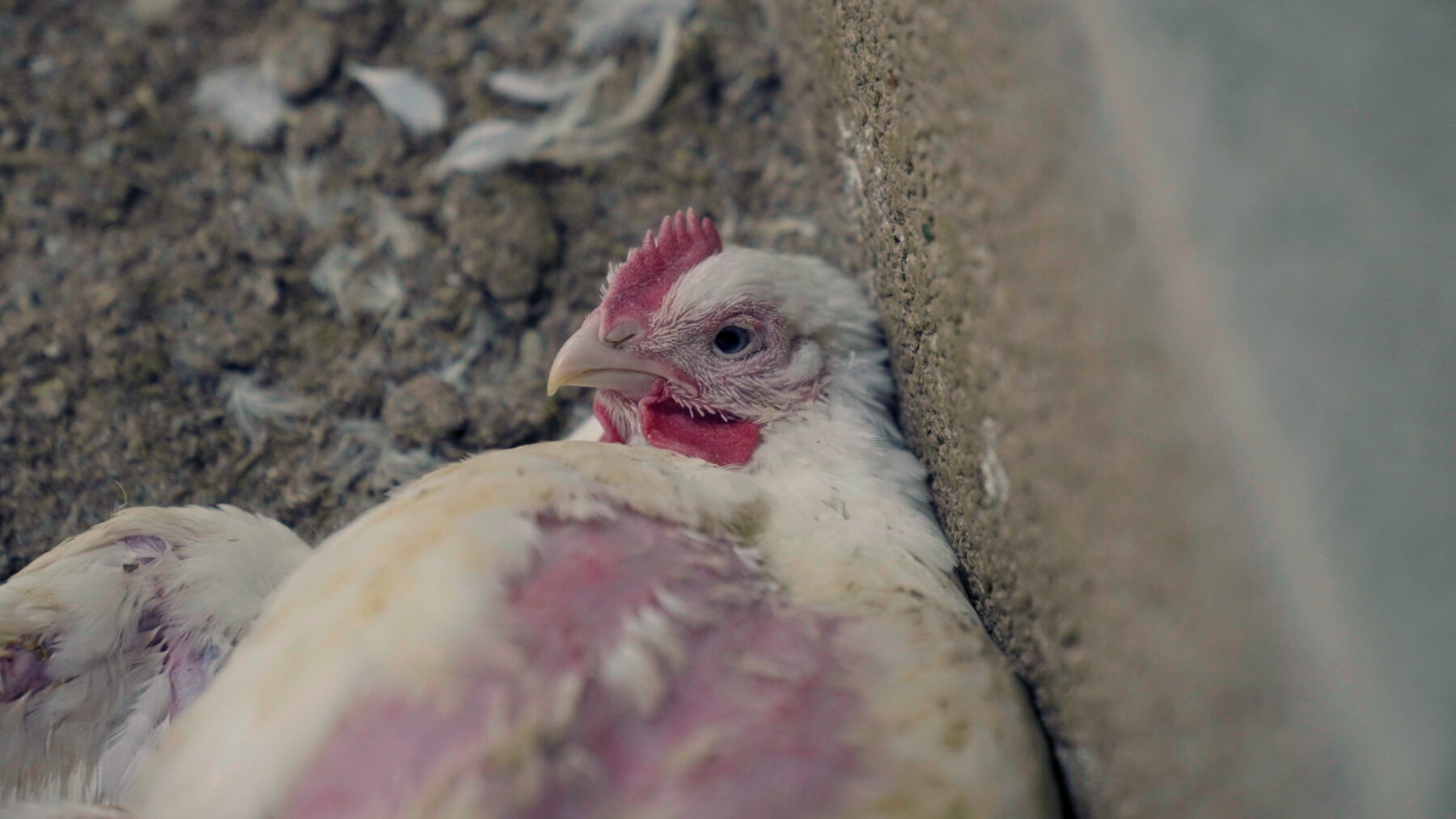 HOW LONG DOES IT TAKE FOR A BROILER CHICKEN TO GROW?
In order to maximise profits, broiler chickens have now been forced to grow so fast that they are full-sized by the age of 35 days. They still tweet like chicks and have a chick's blue eyes because they are still chicks, even though their bodies have ballooned.
WHAT IS THE AVERAGE WEIGHT OF A BROILER CHICKEN AT SLAUGHTER?
On the day of slaughter, chickens weigh on average around 2.2kg.
WHAT IS THE LIFESPAN OF A BROILER CHICKEN?
Broiler chickens in the UK live for just 35-42 days, which is less by far than the life expectancy of their closest wild relatives, the red jungle fowl, who can live up to 20 years. Even domestic chickens of hardier breeds who are cared for in good homes have been recorded as living 20 years or more.
HOW ARE BROILER CHICKENS SLAUGHTERED?
Electrical systems. Traditionally, the most common form of slaughter involves stunning chickens by dragging them through electrified water and then cutting their throats. This method of stunning is hard to administer accurately and many birds go to the knife fully conscious.
Gas systems. Increasingly in the UK, chickens are killed or stunned prior to slaughter using gas. The crates they are transported in are loaded into a gas chamber. Films have shown birds gasping for air.
Religious slaughter. Some forms of religious slaughter are performed without stunning, and the birds have their throats cut while fully conscious.
WHAT'S WRONG WITH BROILER CHICKEN FARMING?
There are a range of serious welfare concerns surrounding the breeding, farming, slaughtering, and eating of broiler chickens.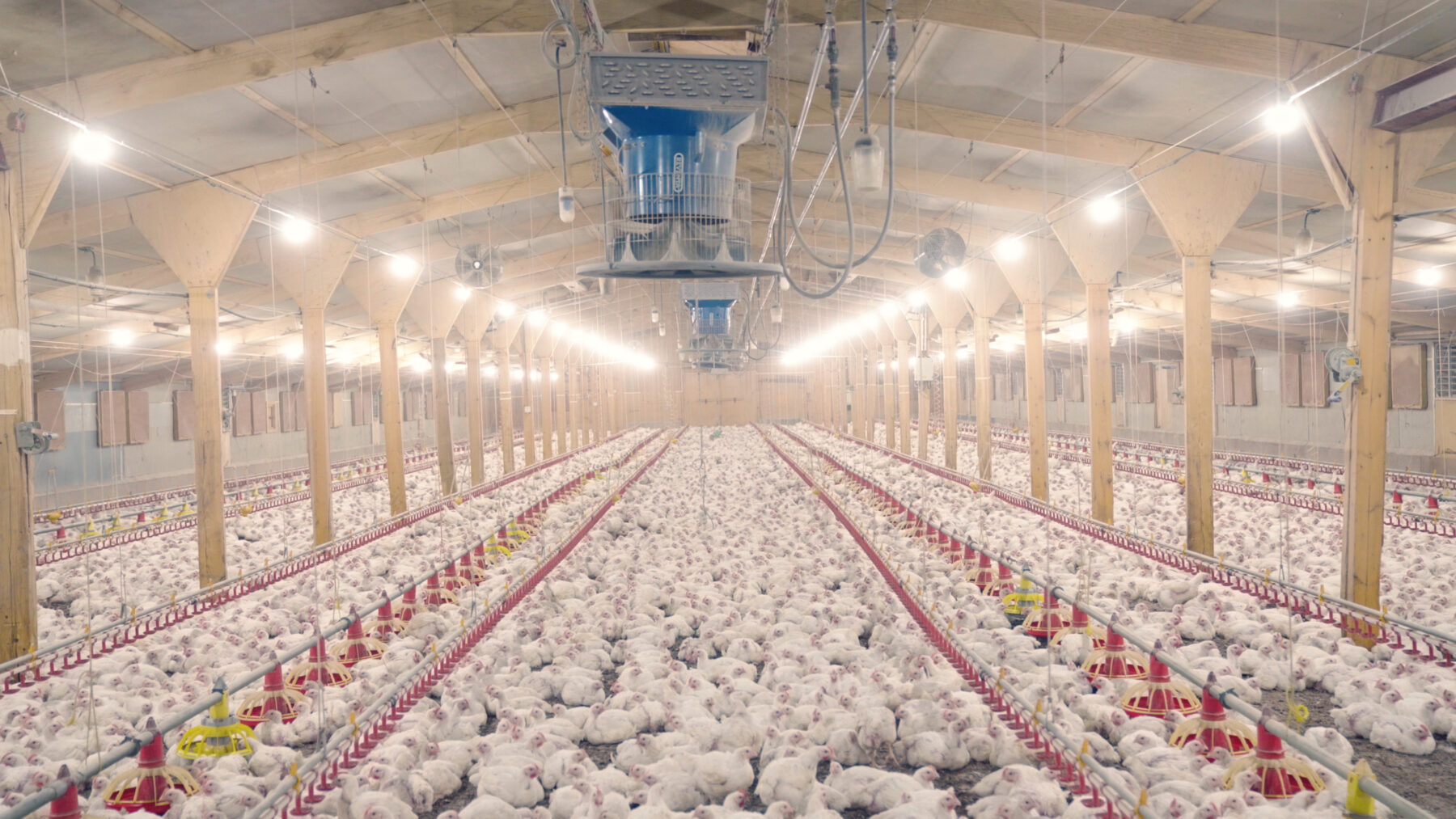 CROWDING
Factory farm sheds are so crowded, we should always put the emphasis on the word factory, not on the word farm. By the time the birds are slaughtered, they can barely move. In part, this is because their legs are so painful, they cannot walk. And in part, it is that there is nowhere to go. But also, the sheds are so crowded, they simply cannot move through the mass of birds.
TRANSPORT
At the end of their short lives, the birds are shoved into crates and transported to a slaughterhouse. Often they are not fed in the hours leading up to transport. Injuries resulting from the handling, catching, and transportation can also lead to many chickens dying before ever reaching the slaughterhouse. The journey itself is stressful and conducted in all weathers — from searing heat to blistering cold.
SLAUGHTER
Chickens who are electrically stunned are turned upside down while fully conscious and their legs are immobilised in shackles, causing great stress and potential injury. Given the number of birds with weak legs and broken bones, this procedure alone can be agonising. Of course, it is terrifying, too, for a bird to be shackled in such a vulnerable position. And all around them are the sights, sounds and smells of the slaughterhouse, and these birds do not want to die.
MUTILATIONS
In the UK, broiler chickens may endure a mutilation known as beak "trimming", which sounds benign but can actually cause chronic pain. The reason for this is that, because of the farm conditions they are forced to endure, birds become stressed and may take their frustrations out on one another. To prevent them from doing damage, which would cost the farmer in lost carcass sales, the ends of their beaks are seared off with a red-hot blade.
In other countries, mutilations of birds also includes:
Dubbing: the removal of combs and wattles
Despurring: the removal of spurs
Declawing: the removal of claws
Toe removal: the removal of toes
All of this can be done without anaesthetic.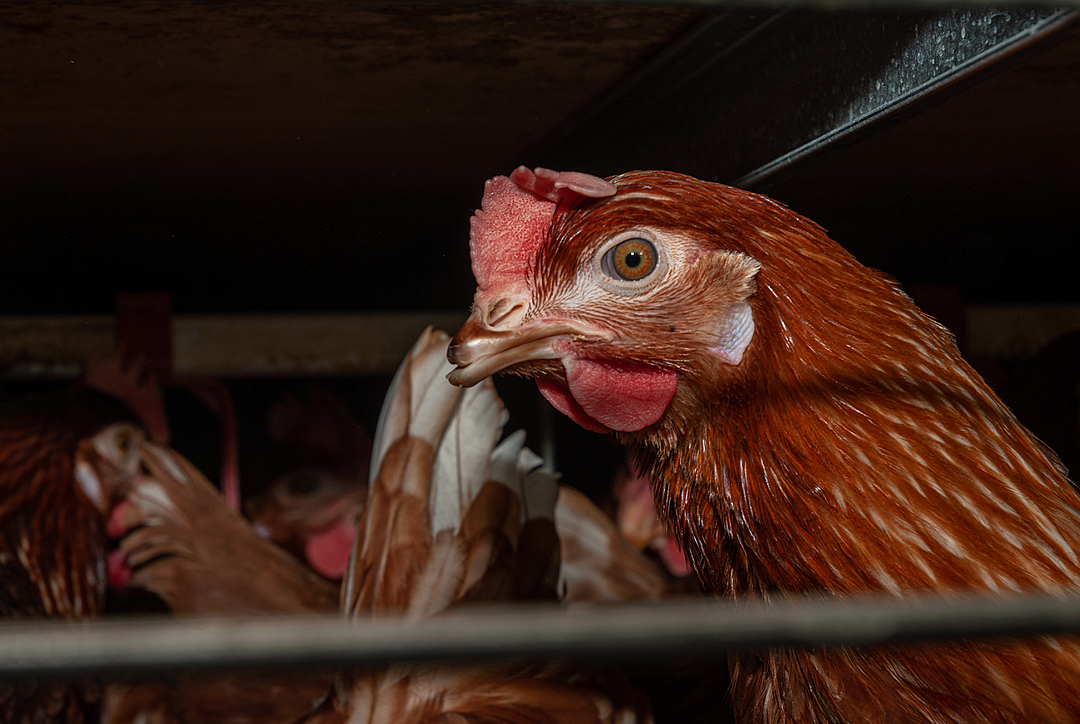 FOOD RESTRICTION
Broiler chickens who are kept alive long enough to be bred from have their food restricted to prevent them from falling victim to the many health issues experienced by their kin who are intended for slaughter. Because these birds have been bred to be constantly hungry, they would likely develop the heart and skeletal problems experienced by other broiler birds if they were permitted to eat what they need to sate their hunger.
MATING BEHAVIOUR
In the breeding industry, stress and unnatural conditions can cause males to become aggressive. These chickens are less likely to display natural courtship behaviours and instead may force copulation on females, causing stress and injury.
LIGHTING
Most chickens are raised in large sheds without windows, meaning that their access to light is completely controlled and only artificial. Although welfare laws mandate that chickens be afforded at least six hours of darkness daily to rest (with at least four hours being continuous) farmers tend to keep the lights on as much as possible so the birds are awake and eating. More eating = more weight gain = more profit. Sadly, it also means more suffering.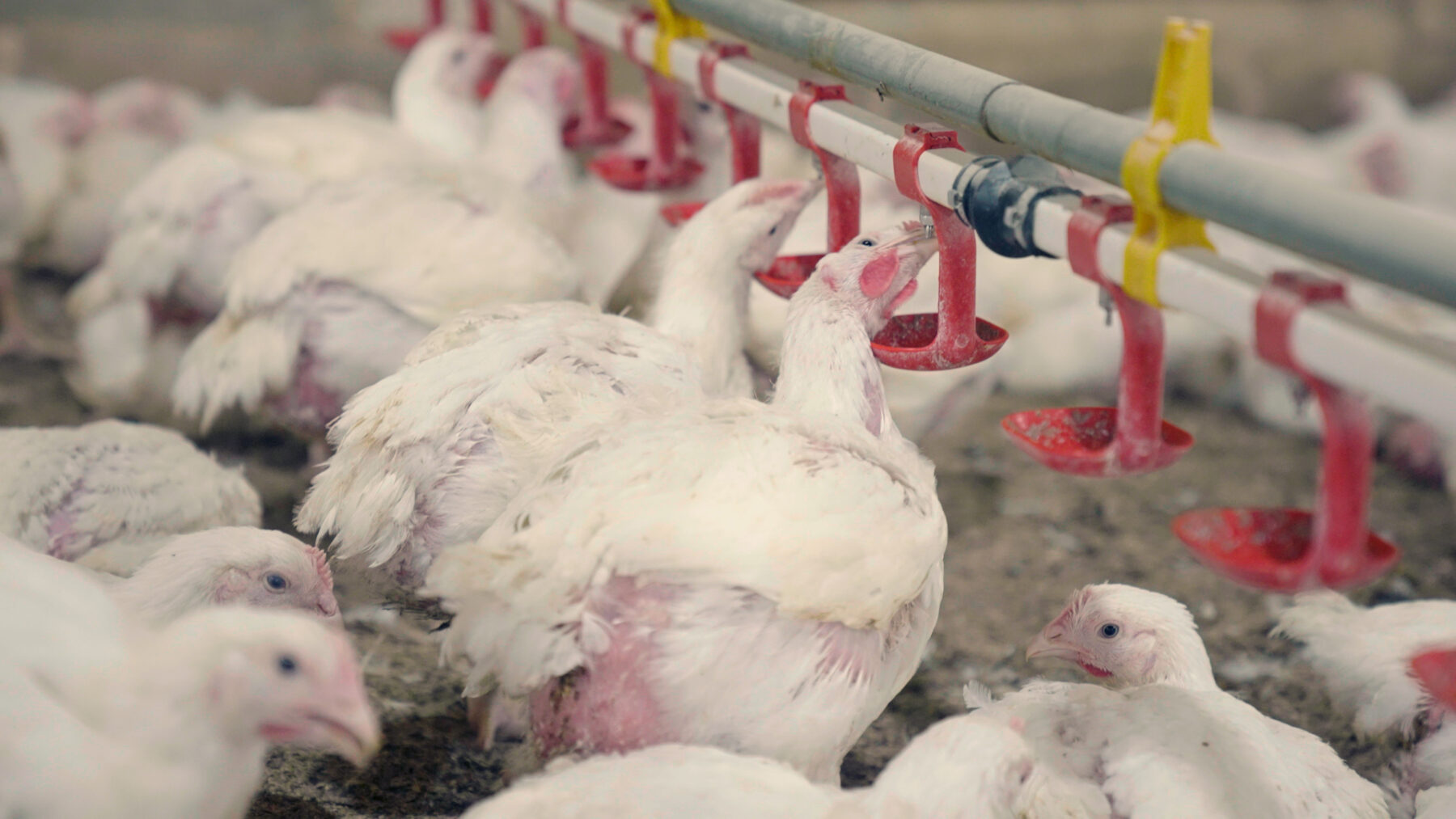 WHAT HEALTH ISSUES DO BROILER CHICKENS HAVE?
There are numerous health issues commonly experienced by broiler chickens. Not least are problems with their hearts and burns to their skin.
CARDIOVASCULAR PROBLEMS
There are two serious heart problems regularly experienced by broiler chickens: ascites and sudden death syndrome. The first of these, ascites, is caused by an increased demand on the heart to supply blood to the body. This is due to the rapid rate at which the industry forces the birds' bodies to grow. Ascites is one of the major causes of death for broiler chickens. Sudden death syndrome, also known as acute heart failure, is another outcome of that rapid weight gain, which can be brought on by stress, a constant in the life of the birds kept in these conditions.
BURNS TO THE SKIN
The ammonia-soaked litter on the floor is acidic enough to cause painful burns. Because of lameness, heart problems and other health issues, birds towards the end of their five-to-six -week life are much more likely to be inactive. In fact, on average, birds spend 76 per cent of their time sitting, and this means they are sitting on that ammonia-soaked litter. No wonder painful ulcers and open sores are so common.
RESPIRATORY PROBLEMS
Ammonia causes other problems besides skin burns and lesions; it also creates respiratory disease in the birds and can, according to an industry insider, "affect overall animal health and welfare".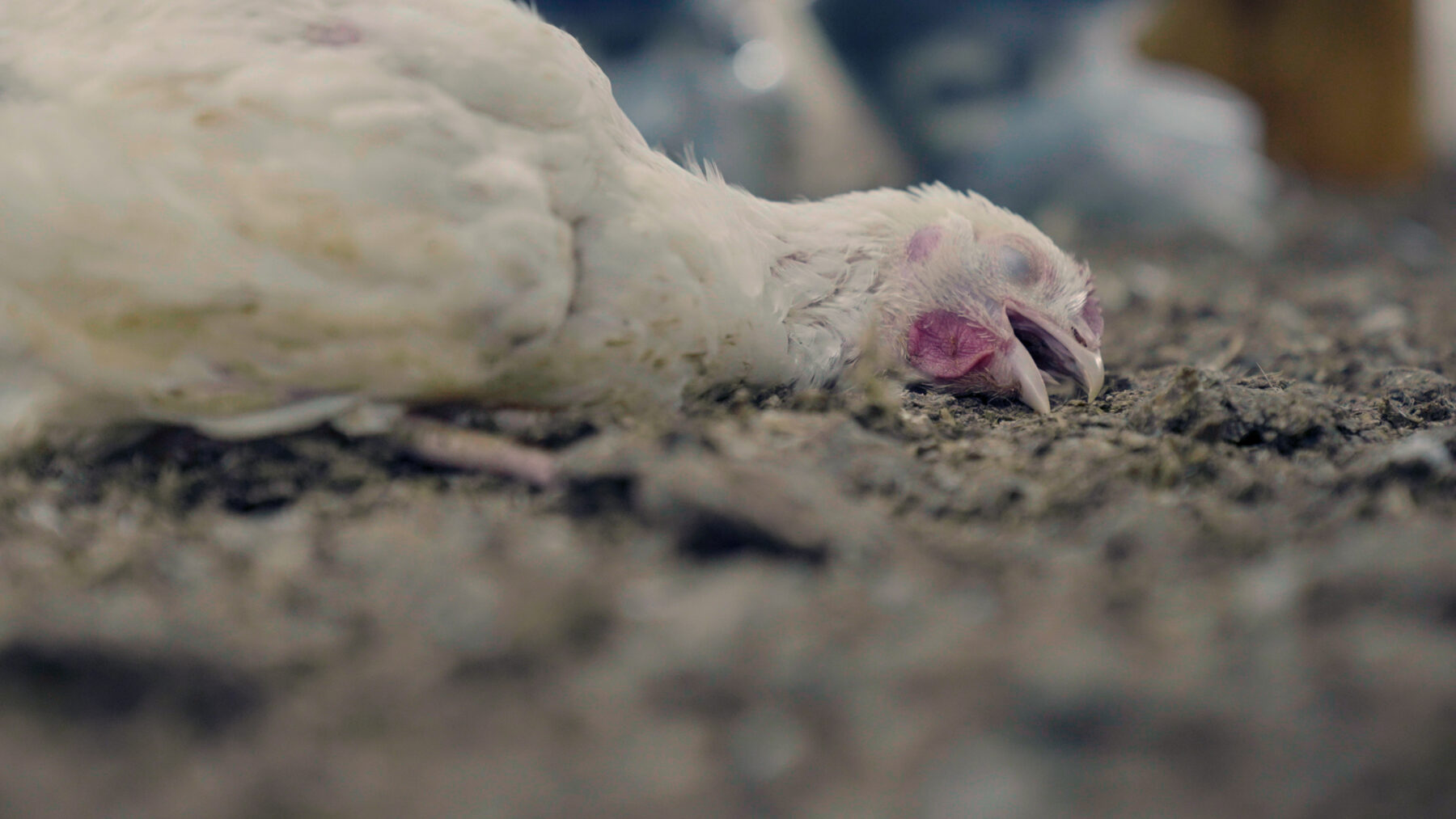 WHY ARE BROILER CHICKENS BAD FOR THE ENVIRONMENT?
AMMONIA
Chicken farms produce a lot of waste, and within that is a lot of ammonia. This affects air quality in the area and can have health impacts for people who live near the farms, as well as farm workers, and the birds themselves. It also gets into local waterways, where it is a serious source of pollution that is toxic to wildlife. Farming chickens is bad news for everyone.
MANURE
Alongside ammonia, chicken waste is especially high in nutrients such as phosphorus and nitrogen. When this waste gets into the waterways and groundwater, it feeds algal blooms which ultimately deprive the waterways of oxygen, and kill wildlife. The Wye is one river that has been badly affected by such pollution, but this is a global problem. Wherever there are factory farms, there is pollution.
CLIMATE BREAKDOWN
The production of chicken meat is among the worst foods in terms of climate impact. Per kilogram of food, chicken is three times more damaging than tofu. In fact, the list of most climate-damaging foods is topped entirely by meat, dairy, and eggs.
FACTS ABOUT BROILER CHICKENS
Research has suggested that 27.6 per cent of commercial broiler chickens in the UK display leg abnormalities, with more than three per cent of the birds being unable or nearly unable to walk.
Broiler chickens gain an average of 60g of body weight a day.
Chickens purr when they are content and happy. Unsurprisingly, chicken farmers do not see or hear this behaviour.
If rescued, and allowed to live out their lives naturally, chickens are inquisitive, and engaging animals whose personalities really shine through.
HOW MANY CHICKENS ARE KILLED FOR MEAT?
Over one billion chickens are slaughtered in the UK every year, while around the world, 72 billion chickens are killed. It's impossible to imagine the magnitude of their suffering. But we could stop it today if we just stop paying for them to be farmed and killed.
CONCLUSION
Chickens endure unconscionable suffering during their short lives, simply so that companies can bread, batter, and fry their carcasses for paying customers. The birds' pain is not only deeply affecting; it is completely unnecessary. At VFC, we've set out to spare the lives of as many chickens as possible by creating delicious alternatives that are made entirely out of plants. Our products taste just like chicken but come without the suffering, stress, pandemic potential, environmental damage, and loss of wildlife that is inherent in the chicken farming industry.