Vegan chicken is becoming an increasingly popular choice from among the range of vegan meat replacements now on offer. According to one vegan chicken producer, the appeal lies in its versatility, which is, of course, one reason why chicken meat is the most consumed meat in the world. It is not surprising, then, that there's a huge market for a vegan alternative as people become more concerned about the sustainability of their food, its climate impact, and its impact on animals.
What Is Vegan Chicken?
Vegan chicken is any vegan substitute that mimics the form, texture, and taste of chicken meat. It's now possible to buy vegan versions of chicken nuggets, popcorn chicken, goujons, sliced lunch meat, meaty chunks, and even chicken breast fillets.
IS VEGAN CHICKEN FAKE CHICKEN?
"Fake" implies that vegan chicken and other meat alternatives aren't real food. They are real food. And it is strange that those who argue that vegan chicken should not be called 'chicken' never seem to get angry about toad in the hole, hot dogs, peanut butter, coconut milk, or spotted dick.
Since vegan chicken fulfils the same role in a meal as the meat from an animal, it makes sense to use the same word, though many companies — including ours — change it slightly for clarity. We call our product vegan chick*n so there can be no confusion.
WHAT DOES VEGAN CHICKEN TASTE LIKE?
It tastes like chicken, although the exact flavour varies between brands and what type of product it is. Generally, like animal-based chicken, vegan chicken doesn't have a strong flavour on its own, and will often be seasoned. The taste of some products is now indistinguishable from the animal version, This Morning presenter, Alison Hammond, found out when she sampled Burger King's vegan chicken nuggets live on air. Vegan food brand THIS created such "hyper-realistic" vegan chicken that it was reportedly on track to outstrip sales of the animal-based alternatives on offer at UK chain Barburrito in 2021.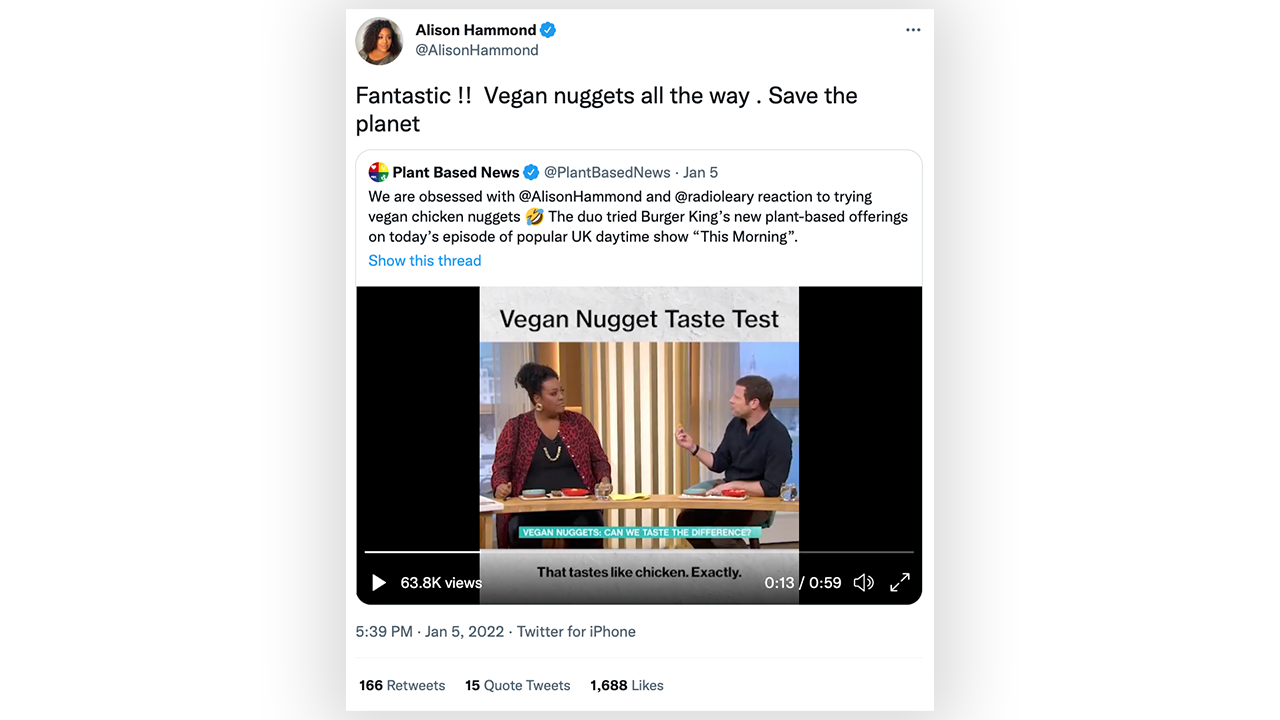 WHAT IS VEGAN CHICKEN MADE OF?
Seitan, which is made from wheat protein, has long been used as a replacement for chicken and other meats, particularly in home cooking. But there are a number of ingredients that commercial brands use to make excellent vegan chicken these days. Wheat can be used to achieve various textures, while soya, pea protein, and mycoprotein (derived from fungi) are all common bases now too. Other ingredients are used to enhance taste and texture, such as seasoning, yeast extract, plant oils, and thickening agents like carrageenan, which is derived from seaweed. Some are also fortified with vitamins such as B12 and iron.
HOW IS VEGAN CHICKEN PRODUCED?
A guide to plant-based meat manufacturing by the Good Food Institute, a nonprofit that works to accelerate alternative protein innovation, describes the steps involved in turning a plant protein into a meat analogue.
It makes pretty interesting reading!
IS VEGAN CHICKEN HEALTHIER?
Vegan chicken and other meats generally compare well nutritionally with animal-based versions. Vegan chicken can be a good source of protein: both soya and mycoprotein contain all nine essential amino acids. A recent study found that humans absorb protein from soya and wheat meat substitutes less well than from chicken meat, but this could only really be a concern in the unlikely scenario that you were relying solely on vegan chicken for your protein intake. Plant proteins are low in saturated fat, and are good sources of fibre, as well as providing several vitamins and minerals including zinc and potassium. Soya can also help to lower cholesterol.
But it's not just what's in vegan chicken that matters; it's what is not in it. And we find too often that meat from animals is a serious health risk. All processed meats cause cancer. That is the finding of the World Health Organization, and this includes bacon, ham, hot dogs, as well as chicken nuggets and other processed chicken products.
The meat from chickens appears to raise cholesterol as much as red meat, making it risky in terms of cardiovascular disease. And there are additional risk factors to consider with meat from chickens, such as Salmonella, Campylobacter and E coli.
Meat from animals is not only risky for our personal health, it is a danger to public health. Experts have long predicted that chicken and pig factory farms are a serious risk in terms of viral pandemics. Already avian and porcine influenza viruses are circulating, some of which have a very high mortality rate in people. And then there is the second public health risk: antibiotic resistance. Because animals raised in the crowded squalor of factory farms get ill so frequently, they are often dosed with antibiotics. These drugs will only be able to serve us if we use them sparingly, and yet it is estimated that globally around 70 per cent of them are squandered inside factory farms.
WHY CHOOSE PLANT-BASED CHICKEN?
It's kinder to animals. Globally, more than 66 billion chickens are killed for food every year, with the vast majority raised indoors in crowded barns or in tiny cages.
It's kinder to the planet. Those billions of farmed chickens need feeding, and typically they are given feed made largely from soya. Often the soya comes from deforested areas of South America. But the environmental damage of industrial chicken farming doesn't end there; the chickens' waste causes significant air and water pollution that hurts local communities and kills wildlife.
Farming animals is a leading driver of climate breakdown.
It's safer for the health of people and birds. Highly pathogenic strains of bird flu have emerged on intensive chicken farms, in some cases infecting humans and resulting in whole flocks of chickens being killed in inhumane ways. Although bird flu occurs naturally in wild birds, it is usually not deadly; it is likely that intensive chicken farming has helped to transmit the virulent strains back into the wild.
You can enjoy all your favourite chicken-based meals and save chickens in the process.
BEST VEGAN CHICKEN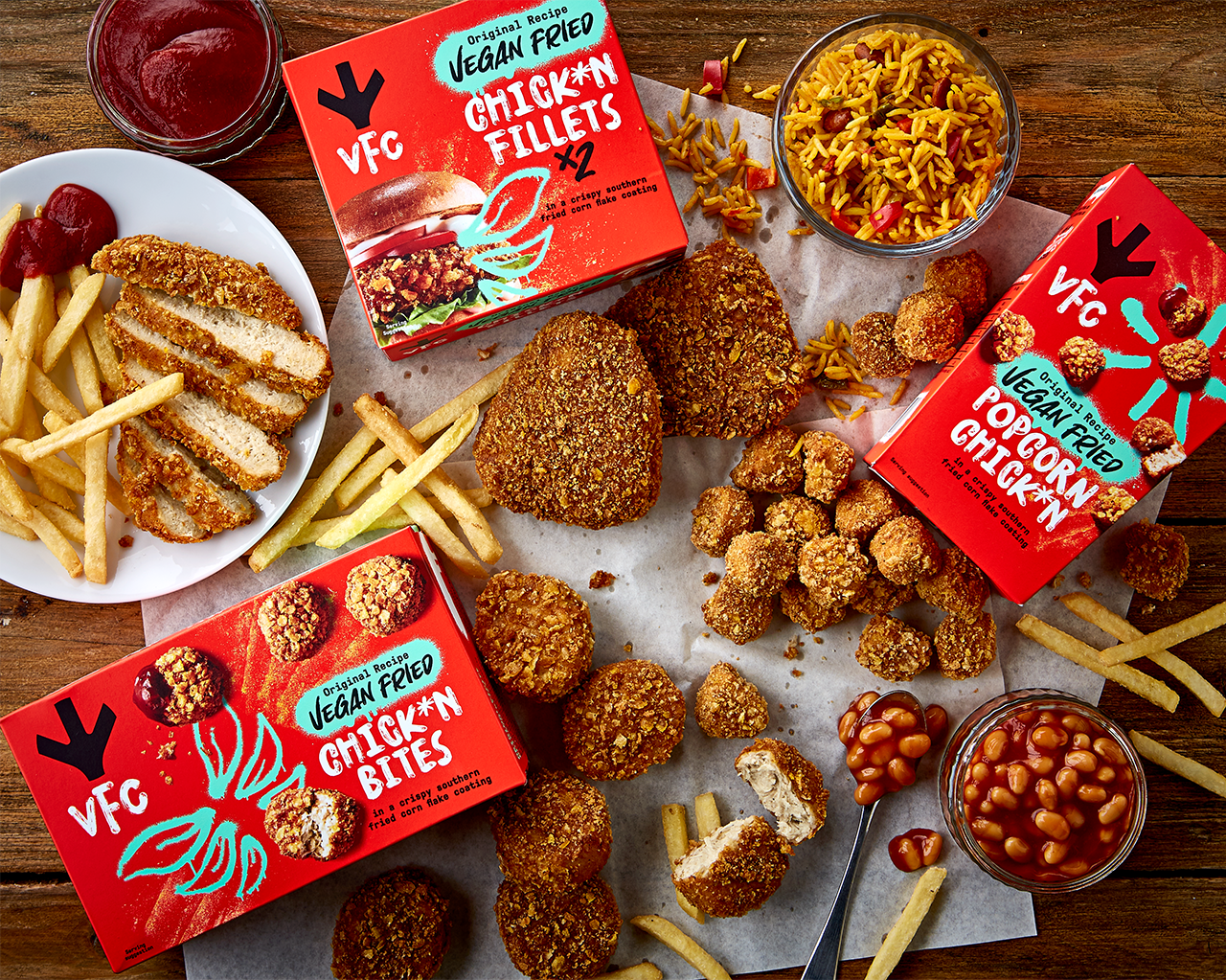 We suggest using these breaded, seasoned fillets made mainly from wheat in burgers, a katsu curry, or in a chick*n parmigiana. You can buy a box of two Fillets for £3 from Tesco and Sainsbury's, or from online vegan supermarkets Mighty Plant and The Vegan Kind.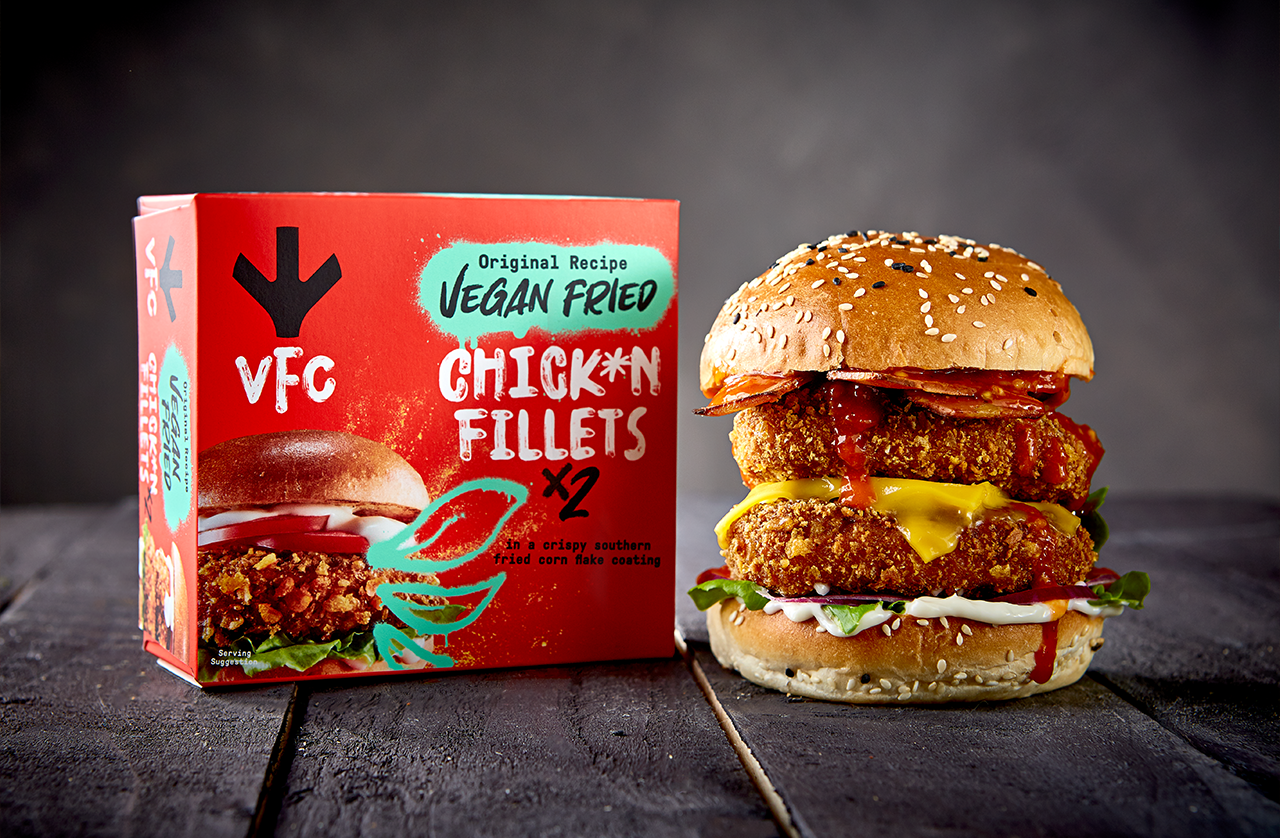 These are smaller versions of the Fillets and made with the same recipe. A 275g box is £3.25 from Tesco and Sainsbury's. A delicious snacking option.
Even smaller and rounder than the VFC Bites, these Popcorn pieces can be a topping on nachos, put on skewers, or eaten whole and unadorned one after the other. Available from Tesco and Sainsbury's in a 250g box for £3.
4. THIS™ ISN'T CHICKEN: SOY & GARLIC PIECES
These pieces are made mainly from soya and are best used in a stir-fry. THIS is stocked in most supermarkets for between £3 and £4.
5. VIVERA PLANT CHICKEN PIECES
These 95 percent soya pieces are great in a stir-fry. Vivera is available in most supermarkets, but not all their products are sold in all stores. They cost around £3 for a packet.
6. THE VEGETARIAN BUTCHER'S WHAT THE CLUCK
Made mainly from soya, these vegan chicken pieces can be used in pies, salads, and curries, or thrown on the barbecue. Several supermarkets sell these, including Ocado and Sainsbury's at £3 for a 160g pack.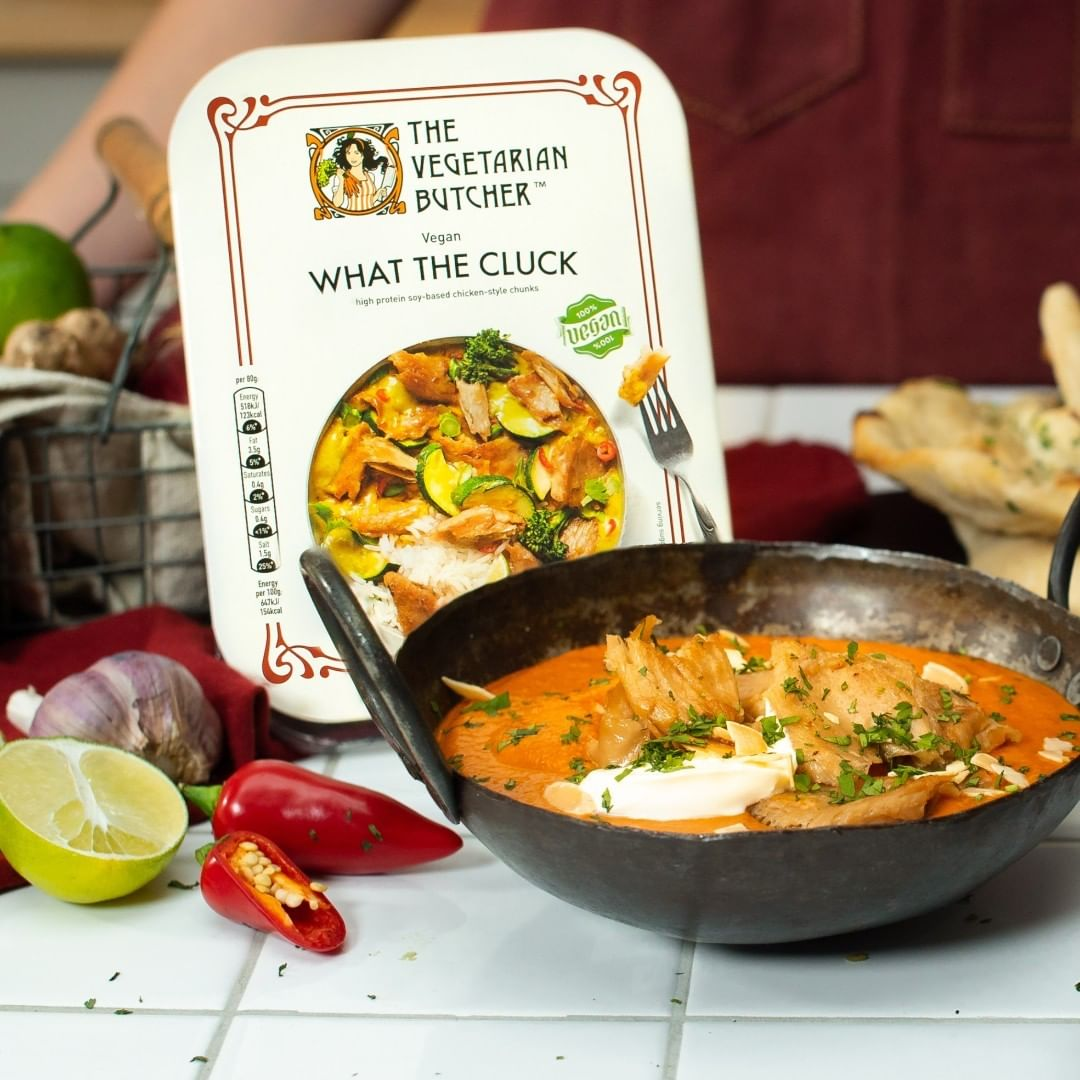 7. FRY'S CHICKEN-STYLE STRIPS
Wheat and soya make up the main ingredients in these strips from Fry's, which has several tasty recipes for using them. Available in 250g packs from Sainsbury's for £3.
8. QUORN VEGAN CHIQIN FILLETS
Made from 88 percent mycoprotein, these fillets can be the main item in your meal or cut up after cooking and added to other dishes. Quorn products are available in most supermarkets, but not all their products are stocked everywhere. You can buy four fillets from Ocado for £2.50.
9. LINDA MCCARTNEY'S VEGETARIAN KATSU CURRY CHICKEN BITES
Despite the name, these breaded soya- and wheat-based pieces are certified vegan. Designed to be eaten like a snack, you can buy a 160g pack from Morrisons for £2.50.
10. PLANT KITCHEN'S NO CHICKEN KIEVS
Part of Marks and Spencer's plant-based range, these soya-based kievs have a garlic and parsley filling and breadcrumb coating. A box of two from Ocado is £4.30.
WHERE TO BUY VEGAN CHICKEN
Most supermarkets now have a sizable selection of vegan chicken and other vegan meat products. Some pubs and restaurants now have meals featuring either homemade or brand vegan chicken on their menus, too, like vegan kebab chain What the Pitta!. There are now also a few vegan butchers around the UK selling vegan chicken, including Rudy's in London and Faux in Nottingham. If you cannot find what you want in your neighbourhood, you can always buy online.
CONCLUSION
Billions of chickens' lives are needlessly wasted every year to make cheap chicken that causes serious suffering, places a significant burden on the planet, and risks spreading diseases to both humans and animals. But that can change. Vegan chicken is a tasty and nutritious alternative to chicken meat, with a much smaller environmental footprint, and none of the suffering.