Snacks can be a great way to help kids meet all their nutritional and energy needs as they are growing and developing. Young children can be fussy eaters, liking a food one day and then rejecting it the next, so snacks can also be used as an opportunity to offer them healthy foods in a different guise from their regular meals.
Obviously, not all snacks are equally good for kids, and children and young adults between the age of 2 and 19 years consume on average 17 teaspoons of added sugar each day. Nutritious and regularly scheduled snacks are important to set children up for good eating habits and physical health later in life. The frequency of snacks and the number of calories that a kid needs will also depend on various factors including age, gender (girls tend to stop growing earlier than boys), and the amount of physical activity they do.
WHAT ARE VEGAN SNACKS FOR KIDS?
Whether a child is being raised vegan or their parents just prefer to get more plant-based food into their diet, what they snack on is just as important as what they eat at mealtimes. Fresh fruit — as long as it isn't coated in beeswax or a wax made of shellac secreted by lac bugs — is of course a great option for a vegan snack and will help kids get more of their five daily portions of fruit and veg. Nuts and dried fruit can be another good option, though they are not recommended for children under five because they can be a choking hazard. There are lots of other healthy options too, whether they are store-bought or made at home.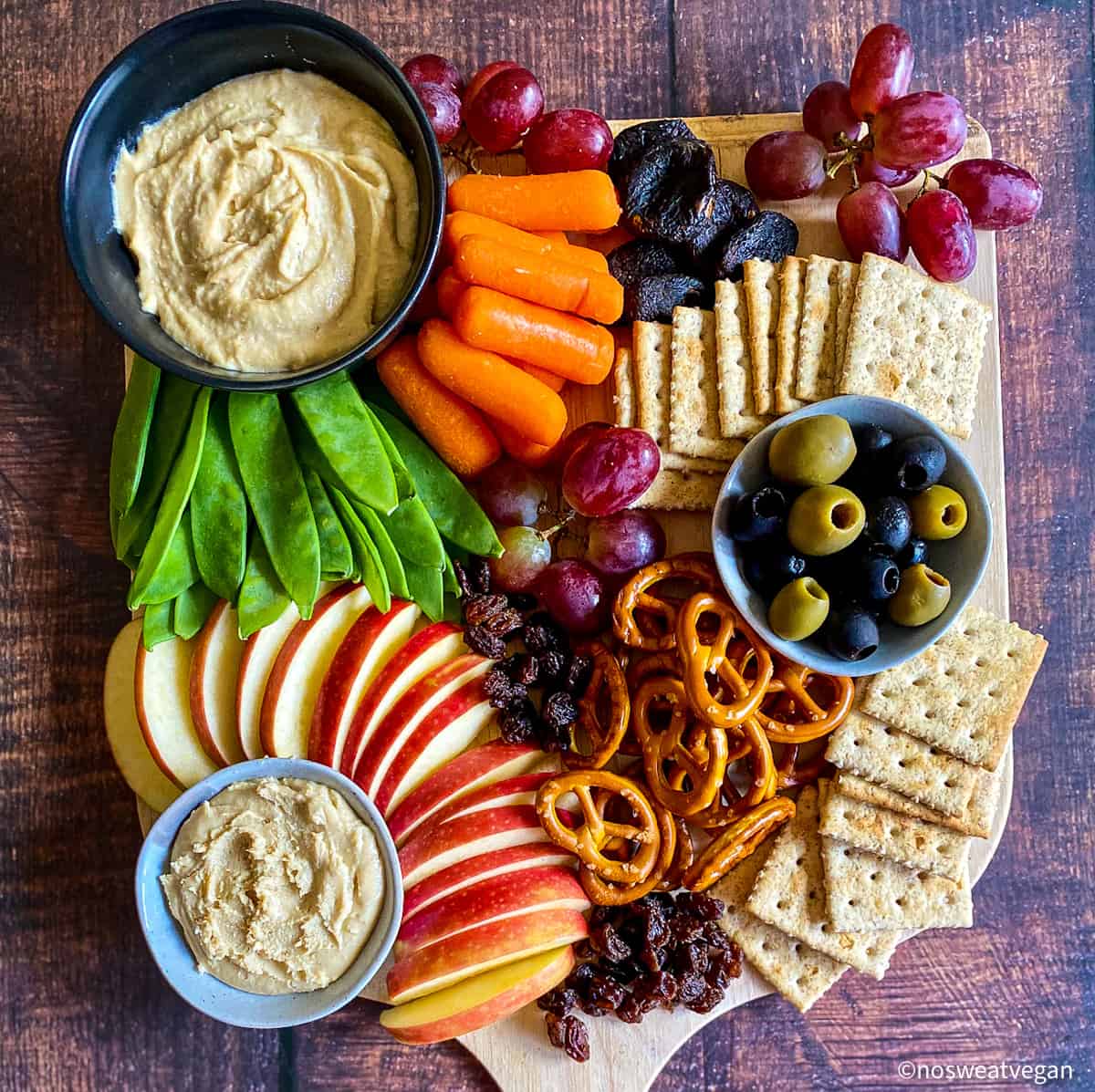 HOW TO PREPARE HEALTHY VEGAN SNACKS FOR KIDS
Being a parent is hard work, so providing healthy snacks for kids shouldn't be a difficult or time-consuming task. Luckily there are loads of healthy vegan snacks that can easily be made with the help of the kids who are going to eat them.
VEGAN SNACK IDEAS FOR KIDS
1. SUGAR-FREE VEGAN FLAPJACKS
Flapjacks are normally loaded with sugar, but they don't need to be. This recipe from child nutrition blog Goodnesst uses overripe bananas to achieve a sweet taste without using refined sugar. Mixing the mashed bananas with oats, nuts, raisins, and peanut butter makes these flapjacks high in protein, fiber, and nutrients including vitamins C and B6. It only takes five minutes to put all the ingredients together — which children can help with — before putting them in the oven to bake.
2. HEALTHY CHOCOLATE BLISS BALLS
Dates are a popular substitute for chocolate in vegan baking, since they are sweet with a fudgy texture and they make everything taste like dessert without the refined sugar. This no-bake recipe for chocolate bliss balls uses dates, oats, coconut, and cocoa powder blended in a food processor. To make it healthier it would be easy to leave out the maple syrup without losing much sweetness. Again, the kids can get involved, shaping the balls.
3. SUPER SEEDY GRANOLA BAR
In the same genre as flapjacks, this recipe for granola bars uses oats and peanut butter along with dates for sweetness and four kinds of seeds to give a nutritional boost.
4. KIDNEY BEAN FALAFEL
Kidney beans are packed with protein, fiber, and other nutrients such as vitamin K, and as a good source of complex carbohydrates they are great for providing energy to growing kids. Falafel can be eaten in wraps or sandwiches but also as a stand-alone snack. This recipe using kidney beans is a twist on the chickpea-based classic, and is made by blending all the ingredients together, then shaping into balls which can then be baked.
5. BLACK BEAN CUPCAKES
Sticking with beans, this recipe from the Conscious Plant Kitchen slips a healthy dose of nutritious black beans into cupcakes. Because of their fairly bland taste, the beans blend well with the sweeter ingredients and provide a fudgy texture.
6. SPINACH BLENDER MUFFINS
Kids might sometimes have to be cajoled into eating their greens, but green muffins are sure to be hit. From the same blog as the black bean cupcakes, these muffins are made by blending mainly spinach, oats, banana, maple syrup, and coconut oil. The recipe makes 24 small muffins that will suit snack times perfectly.
7. RICE CAKE ANIMALS
Rice cakes are a popular snack for kids, who will also love making them into cute animal faces, an idea from My Fussy Eater blog. Spread peanut butter onto rice cakes and let kids decorate them with chopped fruit such as banana, blueberries, strawberries, and raisins to make the faces of cats, bears, and other animals.
8. HOMEMADE TORTILLA CHIPS WITH A DIP
Kids might love potato chips but they are loaded with salt and oil. It's easy to make tortilla chips at home by cutting up tortillas into triangles, brushing them lightly with olive oil and baking them for a few minutes. Make some hummus or guacamole for dipping, both of which can be easily adjusted to suit the tastes of younger kids.
9. NOOCH POPCORN
Popcorn has become a popular healthier alternative to potato chips in recent years. Low in fat and high in fiber, it's also a good source of carbohydrates for hungry kids. Making it from scratch at home means you can control what goes on it, since it's the butter and salt that tend to make some ready-made popcorn unhealthy. This recipe uses "nooch" — which is short for nutritional yeast, beloved by vegans for its cheesy, nutty taste and B12 content — mixed with paprika, salt, onion powder, and garlic powder for a savory seasoning.
10. CRUNCHY ROASTED CHICKPEAS
Seasoned and baked chickpeas, like the ones in this recipe, make a delicious, healthy snack. Their crunchy texture should please kids and they can help decide on what seasoning to use.
WHAT SNACKS ARE ALREADY VEGAN?
1. VFC POPCORN CHICK*N
VFC's popcorn chick*n is always a popular choice with kids. Made mainly with wheat, they have 9.6g of protein and 23.9g of carbohydrates per 100g serving, making them a great snack for growing kids.
2. ENERGY BITES BY FORÇA FOODS
These tasty snacks are made with watermelon seeds and are available in a variety of flavors, including banana and strawberry. They're organic, have no added sugar, and come in a cute snacking pouch.
3. PLANT-BASED BABYBEL
Babybel has long been a favorite snack food for kids, with the little wheels of cheese wrapped individually in wax making them easy to put in lunch boxes or have on the go. The recently launched vegan Babybel tastes similar to the original and is fortified with calcium and vitamin B12.
4. BEAR FRUIT ROLLS
BEAR Fruit Rolls are made using real fruit, with no added sugar. With a choice of flavors, they are a great way to get more fruit into a child's diet.
5. FREEZE DRIED FRUIT CRISPS
A tasty alternative to candies, these naturally sweet snacks are popular with kids. Free from added sugar and in a variety of flavors, these are bound to please.
6. VEGGIE STRAWS OR CHIPS
A healthier, more nutritious version of the potato chips we all know and love. These are readily available and offer the same satisfying crunch of their less healthy counterparts.
VEGAN SNACKS FOR KIDS' PARTIES
1. CHICKPEA COOKIE DOUGH
Chickpeas are a wonderful source of protein, iron, and fiber. This recipe for cookie dough blends chickpeas with dates, oats, raisins, and peanut butter to make a nutritious treat. It's a perfect snack for a party served in little individual jars or muffin cases.
2. BAKED TOFU NUGGETS
A twist on chick'n nuggets, these oven-baked tofu nuggets are crunchy and great for dipping but are also healthy, as tofu is packed with protein, calcium, and iron, among other nutrients.
3. PITA PIZZAS
Pizza is always a winner at parties. Making them with pita bread means they are already small and fun for kids to eat. Top with tomato sauce, vegetables, and vegan cheese.
4. CREAM CHEESE VEGGIE PINWHEELS
Made with vegan cream cheese, tortilla wraps, and sliced vegetables, these pinwheels are easy to put together and will make a healthy and filling snack for kids who need to refuel at a party.
5. VEGAN PIGS IN BLANKETS
It's possible to make your own pigs in blankets from scratch, using a recipe like this one from Zardy Plants. But to save on time, it would also be easy (and delicious) to buy some mini vegan sausages to wrap in your homemade pastry.
FREQUENTLY ASKED QUESTIONS ABOUT VEGAN SNACKS FOR KIDS
SHOULD MY KIDS EAT SNACKS?
Provided snacks are healthy and not too numerous, then yes! Three meals and some snacks each day are recommended for toddlers, and snacks between meals will help school-age children and teens stay focused and fuel their growth and physical activity.
IS IT SAFE FOR A CHILD TO BE VEGAN?
The Academy of Nutrition and Dietetics states: "It is the position of the Academy of Nutrition and Dietetics that appropriately planned vegetarian, including vegan, diets are healthful, nutritionally adequate, and may provide health benefits for the prevention and treatment of certain diseases. These diets are appropriate for all stages of the life cycle, including pregnancy, lactation, infancy, childhood, adolescence, older adulthood, and for athletes." The British Dietetic Association (BDA) holds the same position.
ARE THERE ANY BENEFITS OF RAISING A CHILD VEGAN?
One study in 2021 that compared health outcomes for vegan, vegetarian, and omnivorous children in Poland aged five to 10 found that vegan kids were slimmer and had better markers of cardiovascular health than the omnivores, though they were a little shorter and had lower bone mass. But one of the study's authors noted in a BBC article that this didn't necessarily mean they wouldn't grow taller later. Vegans have also been found to have a lower risk of developing certain health conditions, including type 2 diabetes, hypertension, and certain types of cancer.
Plus, teaching children to be compassionate, to treat others with kindness, to share the world's resources equitably, and to live a sustainable life, are all great life lessons!