When Animal Activists Launch a Global Food Brand
Matthew Glover dreams both big and strategically. In 2013, alongside his wife Jane Land, he co-founded Veganuary with the aim of introducing veganism to millions of people in an upbeat, non-judgmental and welcoming way. For years, the pair ran the charity from their kitchen table, overseeing its unstoppable year-on-year growth. By the time one million participants had taken part, and with a great team in place, Glover's eyes were already on the horizon, and he was asking himself: what more can we do?
With billions of chickens slaughtered globally each year and chicken consumption rising where consumption of other animals is falling, with most chickens being factory farmed, and with less natural public empathy for birds than, say, pigs, the answer seemed obvious.
He teamed up with Adam Lyons – a renowned, award-winning chef, who served vegan meals alongside meat ones at his restaurant in York – and a new activist company was hatched.
An Activist Brand
VFC is not like other food brands. It's bold, irreverent, and full of attitude, with a neat line in self-deprecating humour. It launched in December 2020 with the tagline Thanks Colonel, we'll take it from here even though it had not made a single sale and was producing VFC from a small restaurant kitchen. While humour is central to the brand, it's their no-holds-barred activism that really sets VFC apart.
Their mission statement sets out their stall: Ours is an act of positive rebellion against a system that has brought us climate change, environmental destruction, factory farming and slaughterhouses. We applaud those who fight serious injustice with placards and demonstrations, with letters to MPs. We salute those who take to the streets with megaphones or lock themselves to railings. Our way to dismantle this destructive system is with great food. This is our sit-down protest.
And this is no greenwashing. In July, when Animal Rebellion picketed McDonald's factories, VFC sent the protestors boxes of food. "We were totally with them in spirit," says Glover. "The world needs activists, and activists need fuel."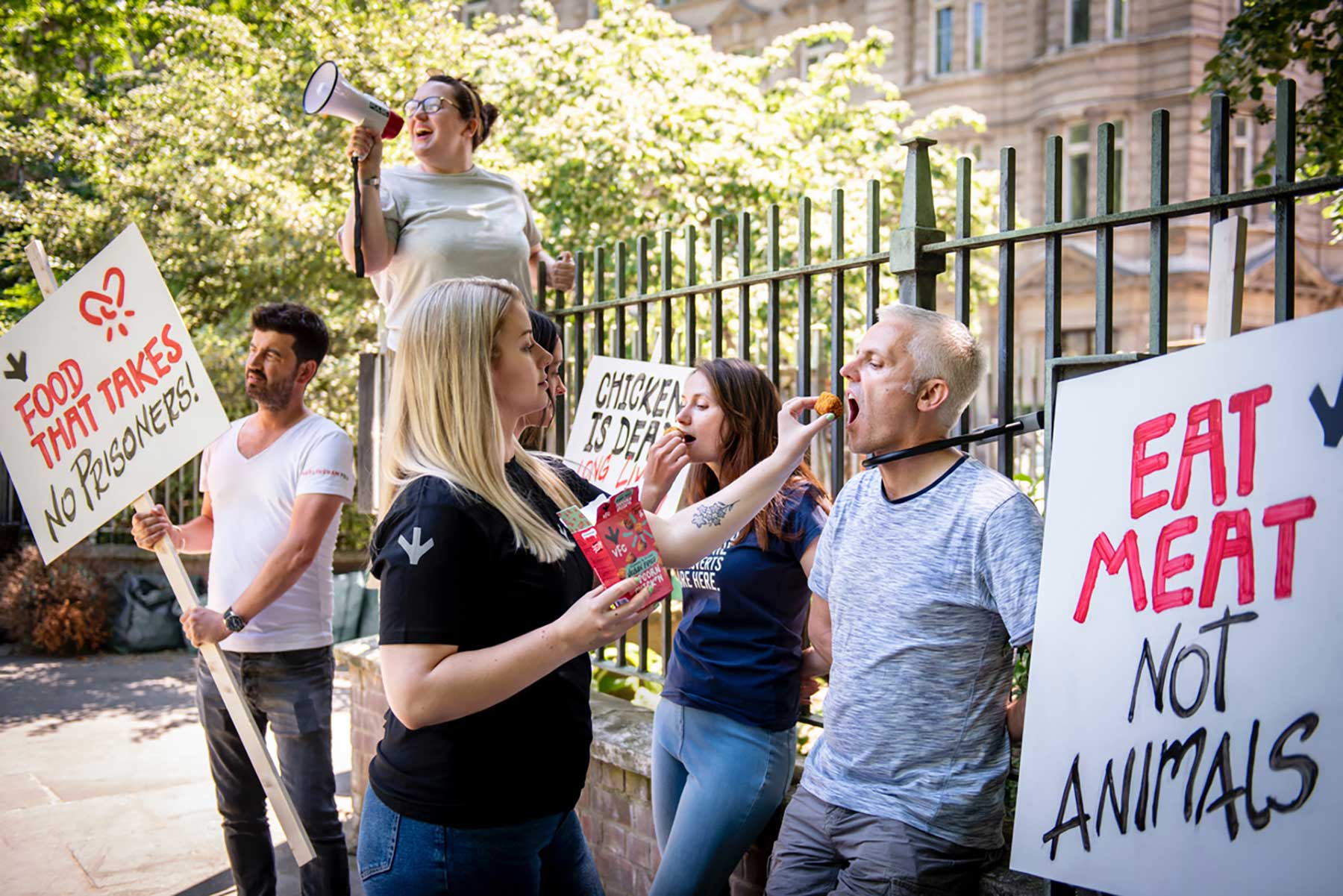 Bearing Witness
Over the years, Glover has been inside dozens of factory farms. The stench, heat, and noise, and the overwhelming sadness and waste of life stay with him and drive him on. "It's a difficult thing to experience," he explains, "but it changes you, makes you even more hungry for progress and even more determined to win. Once you've seen animals struggling like that, you can never turn your back on them."
Just weeks after his VFC co-founder Lyons had become vegan, Glover took him inside a typical chicken farm for the first time. The film reveals a man in shock, almost brought to tears by what he was seeing, a man coming to terms with the fact he had cooked and served birds just like these for many years. He tells one bird who is unable to stand "I am sorry" and to another, he says simply: "You do not deserve this." It's a powerfully moving, desperately sad film.
Telling The Birds' Stories
Following this visit, Glover spent night after night, taking animal advocates inside typical British chicken farms for a film series called Five Farms. Activist Joey Carbstrong, actors Peter Egan and Evanna Lynch, tattoo artist Abbie Sibun and YouTube's Plant-based Leon all volunteered to put themselves through this difficult and emotional experience and to share it with their own followers and friends.
After publishing the films, which have been seen hundreds of thousands of times and made national news, VFC donated all the footage to the We Animals Media stock site, so other campaigners can use it for free. It's a typically collaborative approach from a company that recognises the importance of supporting the grassroots movement and arming it with resources.
Certainly, the company never misses an opportunity to represent the birds, to educate people about them, and to encourage compassion. Where other companies have Employee of the Month, VFC has Chicken of the Month "because it's not about us," they say, "it's about them".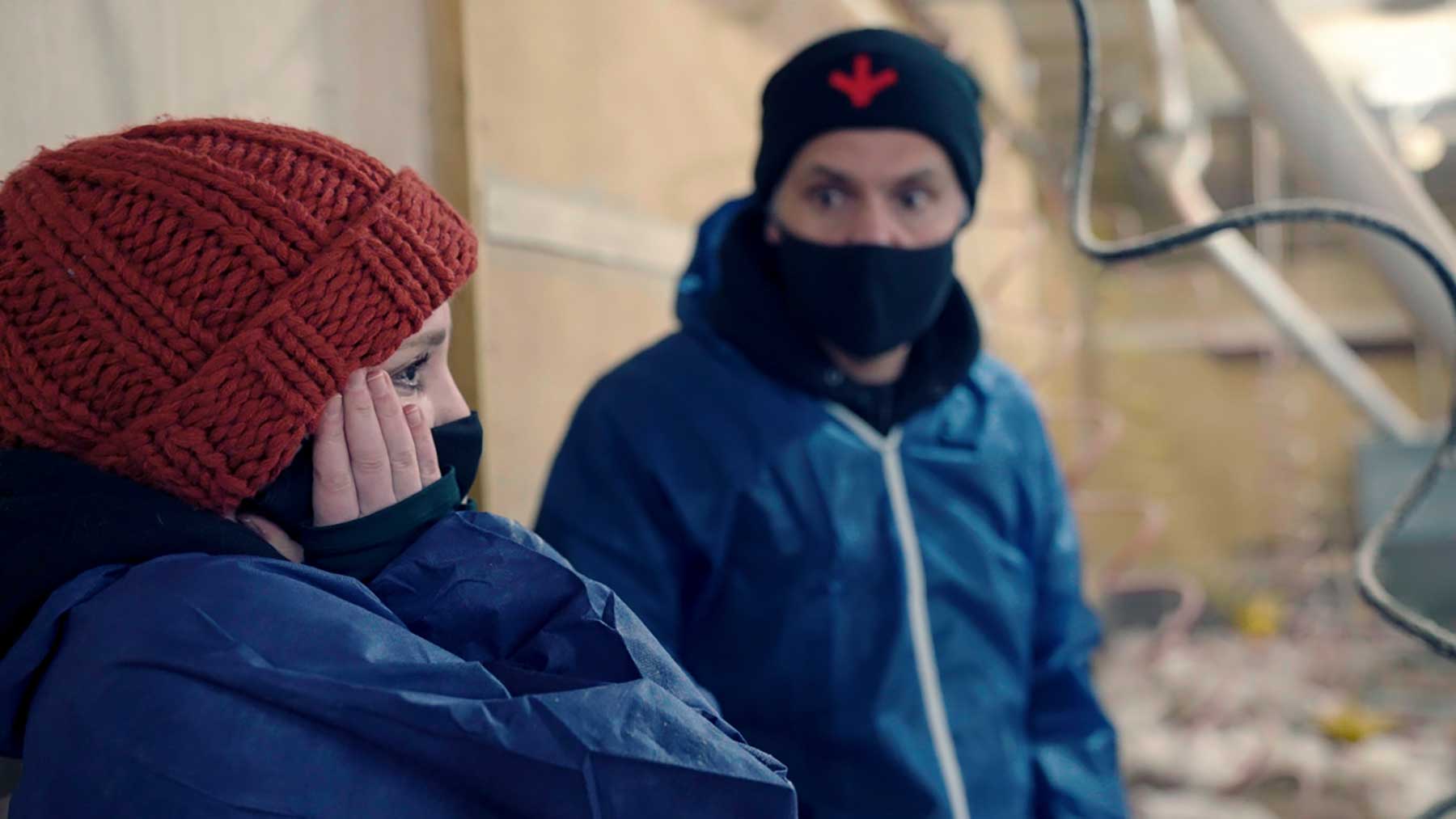 Rebels With A Cause
While some of VFC's staff are activists, others are from the mainstream food industry. It's an unconventional mix but it brings together passion for the mission, creativity and a wealth of expertise in getting both products and information in front of the greatest number of people. And change is happening within the team. Not only is Lyons a fully committed vegan who has converted his York restaurant Source to being 100% vegan, Commercial Director, Stewart McGuckin has gone on his own journey, too.
Formerly of 2 Sisters, one of the country's largest chicken producers, McGuckin said that joining an ambitious start-up was "irresistible", but it's changed him in ways he could not have predicted. "Looking back, it's not that I didn't care," he says, "but more that I just didn't think about where my food came from. I was ignorant. But what I have learned since joining VFC has helped me open my eyes and better understand the food system, and what I've learned is that it's indefensible. I'm proud to say I do care. I'm now a rebel with a cause."
For The Love Of Trolls
Anyone visiting VFC's social platforms will find an eclectic mix of content: beautiful chicken films, factory farming facts, food inspiration and ridiculous memes and jokes. While there is much to chew over, it's the food that consistently draws fire from a band of angry trolls.
"It's incredible how triggered some grown men get by vegan food," says Imogen Hibberd, the company's social media manager. "We avoid pointless rows, and instead have a laugh responding, and then turn the conversation into a Cluckwit of the Month feature. If the trolls realised their comments led to a noticeable spike in orders, perhaps they wouldn't be quite so vocal. We've actually got a lot to thank them for."
Authentically Daft
It's that tongue-in-cheek irreverence that has earned VFC so much love and brought them a loyal and very engaged following. But the humour is not an affectation or a coldly calculated strategy, assures Glover, it's who they really are. "I think many brands build a persona and then do their best to maintain it," he says. "Like in The Wizard of Oz where someone is working the levers behind the scenes, creating an illusion and trying not to get found out. For us, it's really easy. We like a laugh, and if we find something funny, we share it."
And that is how he and Lyons ended up in an homage to legendary comedians Morecambe and Wise in a recent photoshoot. "More Crumb and Fries," he says.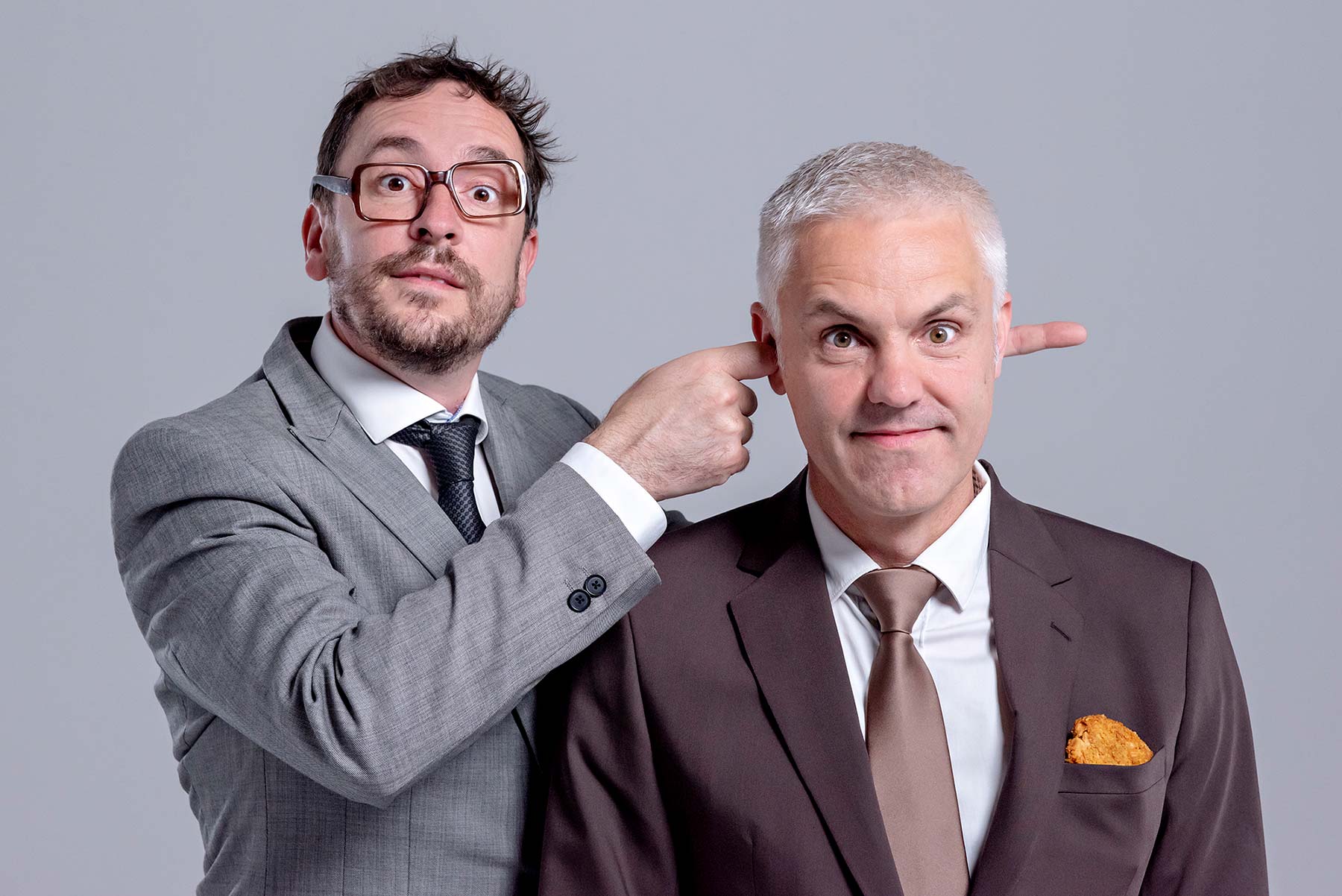 Ruffling Feathers
In August, Glover announced that the company would never use the term "plant-based" in its marketing, and it quickly became the most commented on post they had ever shared.
"'Plant-based' doesn't cover how we feel or what we want to achieve," he explains. "We don't just want to sell food but to use our food as a starting point for a bigger conversation about the damage factory farming does to animals and our planet. And so while it may be right for others to use the term, and we're certainly not criticising them, it's just not for us."
Success = Chickens Spared
VFC plans to be on six of the seven continents in the coming months and is expected to announce its first UK retailer in the coming weeks. Growth has been fast and relentless and is driven by something far more powerful than profit.
"We measure success in the number of birds' lives spared," explains Glover, "and the whole world can see our progress with our Chickens Spared counter on the website. First and foremost, we are vegan activists on a mission to bring down the ruthless and destructive system of industrial farming. But we also sell tasty food."
This article first appeared in Vegan Life