We have dreams and hopes for the future of our children. We have skills, traditions, and habits we want to share and we want to set them up for a lifetime of good health. Whether we gather around a dinner table every evening to discuss our day or get together and cook a large meal to celebrate special occasions, eating plays a major role in the traditions and lives of many families. There are also a host of questions that come with being a parent. Not least of these is how to feed your kids a nutritious diet. But rest assured, a vegan diet can be a great way to help your kids grow and thrive both in body and in mind.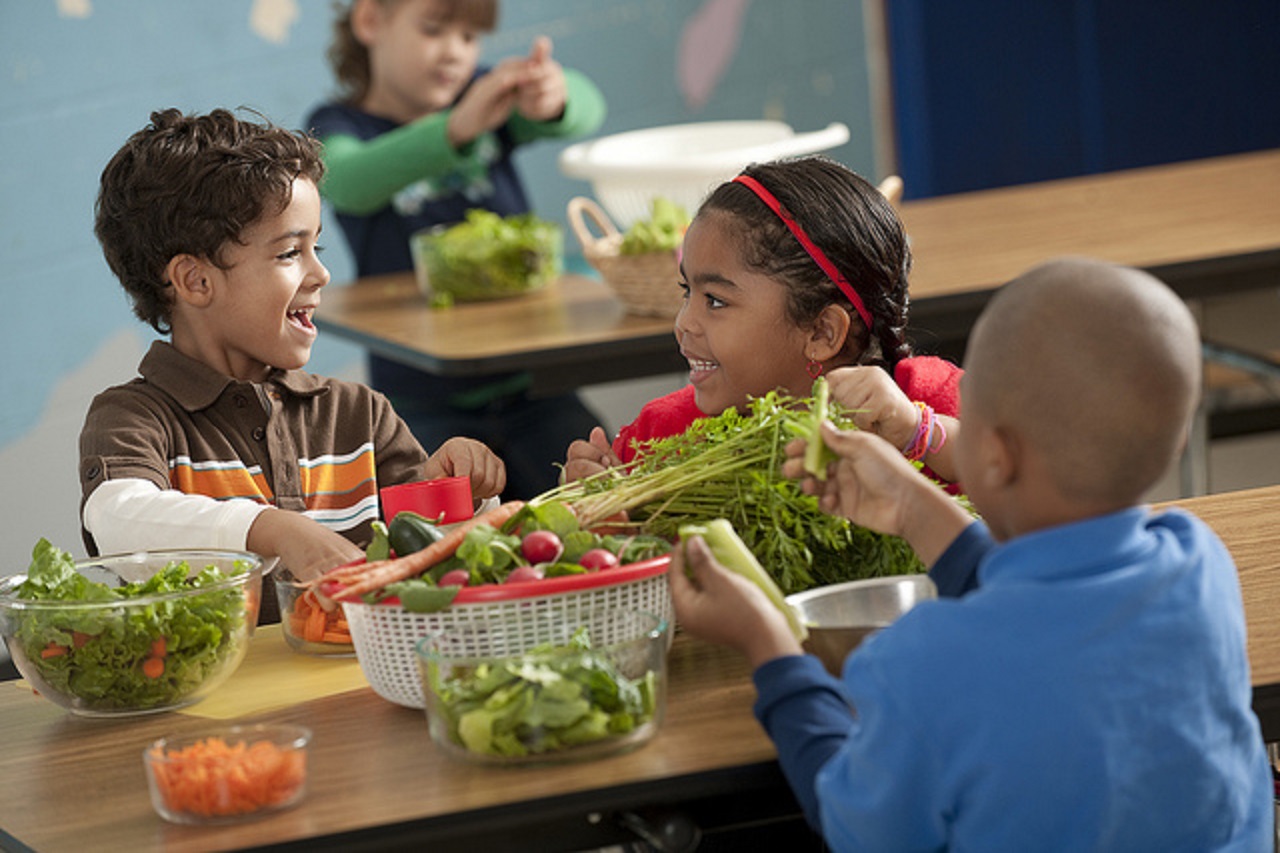 DO VEGANS RAISE THEIR KIDS VEGAN?
Following a vegan lifestyle means reducing the amount of suffering you cause, by as much as is possible and practical. For some parents, raising vegan children falls into this category. However, for others raising fully vegan children presents barriers or complications that prevent it from being entirely practical. Perhaps the child's school doesn't offer vegan options on their menus, or the parent decided to go vegan after the child was already born and accustomed to an omnivorous diet. Keeping a child vegan at birthday parties and other events outside of the home can be very difficult, too. Another consideration is that once children reach a certain age they have the ability to make their own choices, and often, depending on the household, this extends to what they choose to eat. 
Generally speaking vegan parents do seek to reduce the suffering caused by the diets of their families, including their children. This can look different depending on the specific family, with some simply increasing the plant-based foods served at each meal or opting to purchase more plant-based snacks and eliminate those that contain animal products. 
IS IT HEALTHY TO RAISE A CHILD VEGAN?
It certainly is, so long as they are given the right foods in the right amounts. In fact, millions of children all around the world are being raised vegan. Children are not only able to thrive on a vegan diet when it comes to their physical health, but their empathy and concern for other beings, including animals, and for the environment may be higher, too. However, raising children on a vegan diet entails some planning to ensure that they are receiving all the nutrients their bodies need to grow healthily. 
IS IT ETHICAL TO RAISE A CHILD VEGAN?
It is. Children instinctively love animals, and they are often lied to about the foods they are given, as they would never eat meat if they knew who they were eating. Eating vegan foods aligns with their own ethics.
Further, a vegan diet is kinder to the planet. It produces fewer climate-altering emissions, uses less land and water, and – if we all adopted it – would allow us to reforest and rewild vast areas of the planet. Taking care of our home is an ethical decision, and choosing plant-based foods shows we care about the Earth and all who live here.
A plant-based diet is better for global communities, too. Animal agriculture is bad news for people – for workers in the system, for those who live nearby, for everyone who could be affected by a global pandemic or antibiotic-diseases, and for everyone affected by climate breakdown. Choosing vegan foods shows we care about other people, too.
DO VEGAN CHILDREN DEVELOP MORE SLOWLY?
One of the most common concerns facing parents who have made the decision to raise a vegan child is whether their child will develop more slowly than other kids. Research to date suggests they may grow a little slower but it does not appear to be a cause for concern. So long as children get sufficient nutrients – most notably vitamin B12, calcium, vitamin D and iron – there should be no cause for concern. Careful planning, and supplementing when necessary, is a great way to ensure that your vegan child is getting all the nutrients they need. 
VEGANISM AND CHILD DEVELOPMENT
Research has found a correlation between height and diet in children. Specifically, vegan children are on average three centimetres shorter than their non-vegan peers. However, there are several potential confounding factors that could explain this difference. Previous research has demonstrated that babies fed formulas based on cows' milk grow faster than those who are breastfed. As pointed out by Dr. Justine Butler of Viva!, it could be that most of the difference in height is seen in the initial stages of life and that it balances out through puberty and into adulthood.
SHOULD I RAISE MY CHILD VEGAN?
Whether or not you choose to raise a vegan child is ultimately up to you. However, there are a number of reasons to do so, including a lower impact on the environment and a smaller contribution to animal suffering. Plus vegan eating is just plain delicious, and is linked to a reduction in many chronic diseases.
HOW TO RAISE YOUR KIDS VEGAN
When raising a child vegan, it is important to keep several factors in mind. 
1. JUST LIKE ANY DIET, IT SHOULD BE WELL PLANNED
As is the case with any diet, a child's vegan diet must be well thought out. Don't make the mistake of simply assuming that what you eat is also what your child needs. Children have different nutritional needs to adults. 
2. CHILDREN HAVE HIGHER PROTEIN NEEDS
Children require a greater amount of protein than adults based on their body weights. For example, the recommended protein intake for female children aged 15 to 18 is the same as adults aged 19 to 64 despite adults being larger on average than a 15-year-old. 
3. KEEP AN EYE ON IRON AND ZINC
Iron and zinc are two nutrients that must be monitored carefully in vegan children to ensure they are receiving enough of each. Good ways to make sure include providing lots of dark, leafy greens and fortified cereals. 
4. AVOID TOO MANY FIBRE-RICH FOODS
While fibre is an essential part of every kid's diet, eating too much fibre can fill up small bellies before they have eaten sufficient nutrients. It may even decrease absorption of protein and certain vitamins and minerals. 
5. MAKE SURE THEY HAVE ENOUGH CALCIUM
Giving kids plant milks fortified with calcium is a great way to make sure they're developing strong bones and teeth. 
6. CHILDREN SHOULD TAKE VITAMIN B12 
We should certainly pay close attention to vitamins B12 and D. Making sure to offer these vitamins as gummy sweets or in some other palatable form will help make sure your kids are getting plenty of these essential nutrients. 
7. LET THEM HELP IN THE KITCHEN
Involving children in the kitchen by letting them help plan and prepare meals is a great way of introducing them to new foods and getting them excited about all the amazing things they can create that are completely vegan. 
8. INVOLVE HEALTH PROFESSIONALS
To help make sure your child is getting the best diet possible, you can discuss their needs with a health professional and follow guidance provided by the NHS. 
9. MAKE THEIR FAVOURITE FOOD VEGAN
If you are making the switch towards a vegan diet from an omnivorous one, or if your child tried a food like pizza or nuggets at a friend's house or school and is now obsessed, preparing their favourites is a great way to show them that they can eat all the foods they love without having to eat animal products. 
10. TALK TO YOUR CHILDREN
One of the best ways to raise vegan kids is to have an open dialogue with them. Talking to them about what they like and what they don't, as well as all the reasons for eating vegan, can help to foster your child's understanding and enthusiasm for a vegan diet. 
FEEDING YOUR VEGAN CHILD
There are lots of delicious vegan foods to try that both you and your child will love. Below is just a sample of nutritious and delicious ideas. 
KID-FRIENDLY VEGAN BREAKFAST
Chick*n and waffles
Breakfast cereal with fortified oat milk 
KID-FRIENDLY VEGAN LUNCH AND DINNER
KID-FRIENDLY VEGAN SNACKS AND TREATS
Carrots and pretzel sticks with hummus
Fresh fruit 
Vegan chocolate cake
VEGAN KIDS' PARTY FOOD
One very popular and convenient party food is chicken nuggets. Thankfully there are vegan options on the market including our own Chick*n Stompers which are not only delicious but come in fun, dippable shapes. They're perfect for both kids and adults. 
Other party food favourites that can be bought or made vegan include: pizza, sausage rolls, cocktail sausages, crisps, mini savoury muffins, cupcakes, and ice cream. There really is no need to miss out!
CONCLUSION
As with any diet, choosing to feed your kids a completely vegan diet takes planning and consideration. However, when done right vegan kids stand to benefit both in the strength of their bodies and the empathy and kindness in their hearts and minds. As a bonus, vegan food tastes pretty good too.