Land pollution is closely related to water and air pollution — the three are interlinked. In fact, much of the water and air pollution starts as land pollution: farmed animal waste and agricultural chemicals sink through the soil and run into waterways, polluting them, while the emissions from factory farms and landfills create noxious gasses that can cause ill health while contributing to climate breakdown. Together these forms of pollution have severe impacts on the health and wellbeing of human and animal populations all around the world.
WHAT IS LAND POLLUTION?
Land pollution is the release of materials that can have harmful effects on the environment, wildlife, and people — including fertilizers and farmed animal waste — onto the land. These can be associated with serious public health concerns, as some, including fertilizers and pesticides, can be absorbed by the plants we eat. Solid waste, such as the rubbish we produce in our homes and businesses, can have serious consequences for wild animals — who may become entangled or trapped in them, for example — as well as for the environment.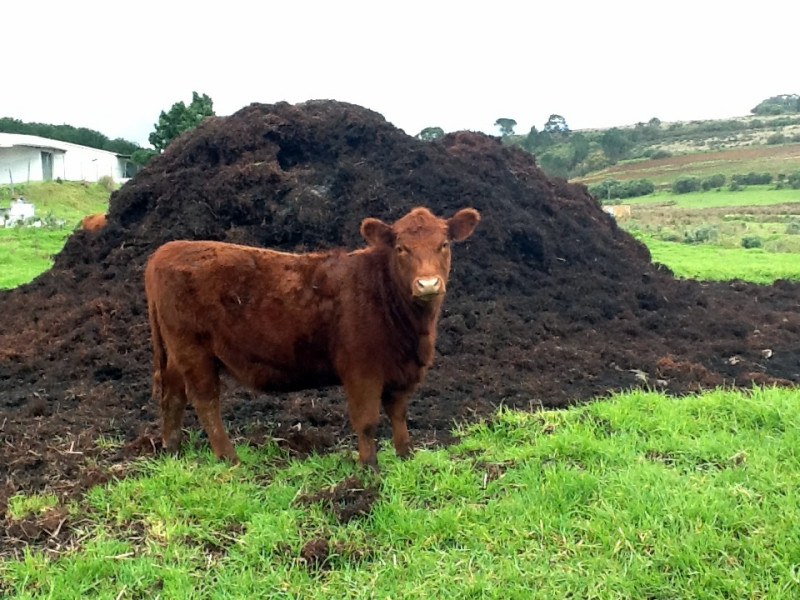 WHAT ARE THE CAUSES OF LAND POLLUTION?
Land pollution originates from a variety of different sources: industrial, agricultural, and individual. Some of these sources of land pollution can be addressed by us. We can opt for reusable bags for carrying our groceries, for example, and choose products that aren't in plastic packaging. Other kinds of land pollution, however, can only be addressed at a larger, societal scale with change coming from organizations and legislation.
AGRICULTURAL ACTIVITIES
The systems through which we produce our food are a major contributor to land pollution, due both to the pesticides and fertilizers applied to crops, the majority of which are grown to feed animals in farms. And then there is the waste produced by those animals. Every day, for example, each dairy cow produces about 29.5kg of feces each.
There are more than nine million dairy cows in the US alone, producing hundreds of millions of tons of fecal matter every single year.
MINING ACTIVITIES
Not only does mining for precious metals and minerals require the destruction of a lot of natural flora and fauna as areas are cleared for the mining activity to take place, but it also results in the production of large amounts of hazardous waste, some of which is radioactive.
URBANISATION
As populations and cities expand, more waste is generated not only by the construction of new buildings and facilities but by the residents themselves.
INDUSTRIALISATION
Industrialisation has brought technological and productivity gains that helped to fuel modern lifestyles, but it has also had a major hand in environmental destruction and land pollution. The growth of industry globally increases the demand for natural resources and intensifies the methods by which we produce food and other commodities.
SEWAGE
Sewage pollution is a global problem that affects many waterways, but also has consequences for the land. When sewage is used as fertilizer, or simply dumped onto the land, it can have negative effects on both human health and the functioning of ecosystems.
NUCLEAR WASTE
Between nuclear power and nuclear weapons a vast amount of nuclear waste has been produced by humans. This waste is being held in massive containers which are beginning to show signs of their age, in some cases even beginning to leak their contents.
OVERCROWDED LANDFILLS
Landfills have many years of waste buried within them. There are 3,000 active landfill sites in the US, most of which leak their waste into the land.
LITTERING
Every single one of us can choose to litter or not, and many people throw rubbish on the ground or illegally dump it instead of disposing of it correctly. This has consequences for wild animals in particular.
WHAT ARE THE EFFECTS OF LAND POLLUTION?
Land pollution can have a range of harmful effects that vary with the pollutants involved, the location, and the extent. Land pollution also doesn't exist in a vacuum — when the land is polluted it is likely to be affecting air and water, with consequences for animals, humans, and the environment.
CLIMATE CHANGE
Many types of land pollution — such as manure from farmed animals and decomposing rubbish in landfills — release greenhouse gasses like carbon dioxide and methane that contribute to climate change.
ACID RAIN
Acid rain results from the release of chemicals from humans burning fossil fuels. When the rain falls it is absorbed into the soil. Dead and dying trees are a common sight in places that experience acid rain.
DETERIORATION OF FIELDS
Land degradation, or the deterioration of fields and soil, has accelerated at an alarming rate during the 20th and 21st centuries, in large part due to human activity. Our agricultural practices are the driving force, not only causing stress to the land and reducing its fertility and biodiversity, but also entailing heavy pollution with wider consequences for people and ecosystems. When we eat plant-based, we need a fraction of the farmland, and so can de-intensify agriculture, and return the land to nature.
GROUNDWATER POISONING
Many forms of pollution that initially impact the land, such as farmed animal slurry, can also make their way through the soil and into groundwater reserves, harming the water supply for communities and wildlife.
WILDFIRES
The heavy use of fertilizers and unsustainable agricultural practices degrade soil and impact their ability to retain moisture, making fires more likely.
EFFECT ON WILDLIFE
Pollution can have many effects on wildlife. In the form of litter it can trap animals or be mistaken for food, while the degradation of soil and the seeping of slurry into waterways can have serious effects on animal populations and disrupt entire ecosystems.
DRINKING WATER PROBLEMS
Land pollution is likely to turn into water pollution as the land pollutants sink through the soil and into water. There are roughly two billion people around the world who get their drinking water from a contaminated water source.
WHAT ARE THE DISEASES CAUSED BY LAND POLLUTION?
Due in part to the wide array of different substances and ways in which land can become polluted, it comes as no surprise that land pollution can cause or contribute to the development of many different diseases and conditions. These range from minor inconveniences that can be solved with medication if it is available to serious conditions that can be lifelong and may even be fatal.
CHOLERA
Though most people who contract cholera show only mild symptoms, if left untreated a severe case can cause death in just a few hours. It is caused by consuming contaminated food or water.
DIARRHEA
Diarrhea can be caused by a number of different diseases or develop independently after consuming water or food that is contaminated with one or many different chemical or biological contaminants.
CANCER
Cancer can be caused by a huge number of different factors, including exposure to certain chemicals in the environment.
BREATHING DISORDERS
Chronic respiratory diseases, or breathing disorders, are those which impact the lungs and airways within the body. Land pollution can lead to the formation of dust that can cause respiratory problems, as in the vicinity of large scale animal farms and their high quantities of particulate matter.
SKIN DEFECTS
Pollution, particularly air pollution, which is often closely linked to land pollution, has been linked to some of the most common skin disorders including acne.
CHRONIC KIDNEY DISEASE
Chronic kidney disease, also known as chronic renal disease, is a disease that leads to the gradual loss of kidney function over time. It can be caused by exposure to pollutants such as mercury.
WHAT ARE THE SOLUTIONS TO LAND POLLUTION?
REFORESTATION
Trees are a valuable natural air cleanser, absorbing and storing carbon while releasing oxygen. For this reason, reforesting areas and planting more trees and plants in suburban and urban spaces is a great first step in reversing pollution.
REDUCE, REUSE, RECYCLE
Finding ways to reduce, reuse, and recycle, preferably in that order, can help reduce the amount of waste entering landfills and polluting the land. There are many inventive ways that what may seem to be rubbish can be repurposed.
USE FEWER PESTICIDES AND FERTILIZERS
Pesticides and fertilizers contribute heavily to pollution as they impact not only soil but also make their way into the water and air. One of the best ways to reduce the pesticides and fertilizers that go into growing your food is to go vegan. While it may seem counterintuitive to eat more plants as a solution to the overuse of chemicals used to grow plants, you'll never eat as many plants as are used to feed farmed animals. If we all ate plant-based, we would need to grow a lot fewer plants.
CONCLUSION
The impacts of land pollution are severe and long-lasting. In addition to recycling as much as possible, being sure to dispose of waste appropriately, and being judicious with how much water we send into the sewer systems, we can also shift our diets. By adopting a vegan diet, we stop contributing to the demand for dairy, meat, and eggs that keeps alive industries that are major contributors to land, water, and air pollution. Further, if the number of animals being raised is reduced, less land and fewer fertilizers and pesticides will be needed to grow their food.